School News
Peace Festival Reflections
Posted on

November 8th, 2018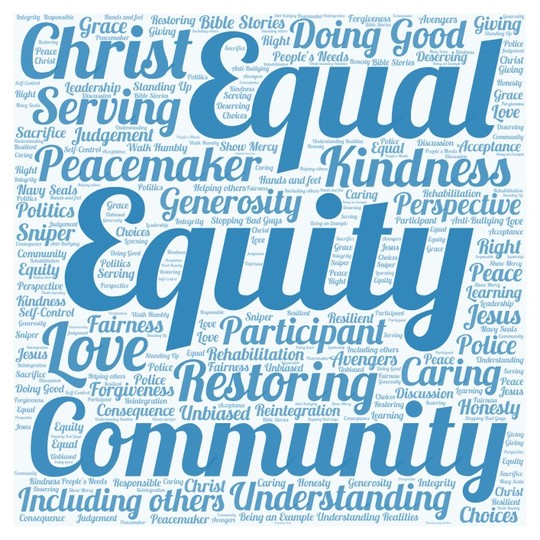 In Canada, November is a month of remembrance. All around Canada, individuals and communities stop and pay respect to the Canadians who have fought in wars on November 11th, Remembrance Day. As a peace school, we remember these individuals. We remember the violence and pain that war has caused and continues to cause in our world. By remembering this, we are encouraged to work for peace. That is why in November we hold a Peace Festival.
Our peace festival is a celebration. It is an opportunity to not just focus on the absence of violence, but rather to be part of building something great. As peacemakers, every day our job is to build God's upside down kingdom here on earth; an honest, just, fair kingdom. A kingdom where we do what Jesus did, by standing up for those who have no one.
On Friday November 2nd, our school came together for a morning to reflect on what justice means in God's kingdom. We explored the idea of justice as true fairness, meaning everyone has a fair chance. Division 1 learned more about how we can be fair when we are all different and have different needs. They heard from Solange Lalonde, on her experience raising a daughter who has autism. Division 2 heard from two MCC speakers, a Palestinian young adult and an Israeli young adult. They shared about the lack of fairness they experience, living in the same part of the world. They helped us see the difference between rights and privileges and think about how we can better notice those who may not have the same privileges we enjoy.  Division 3 was led in a participatory workshop by Theatre of the Beat, a theatre company with the mission to catalyze discussion on Social Justice as it connects to beliefs. They stepped into roles as individuals in a community after a vandalism offence took place, exploring how the community might find a restorative justice.
This day allowed all grades to explore the difference making things equal, or getting even and making things right.
November is a month to remember, but also to celebrate the opportunity we have everyday to work for peace. Jesus set an ultimate example for us when he lived out God's word in Isaiah 1:17. "Learn to do right; seek justice. Defend the oppressed. Take up the cause of the fatherless; plead the case of the widow." Our Peace Festival was a great opportunity for us to reflect, and learn how we can go and do likewise.
Mrs Beriault, Grade 6 Homeroom